Hey Anne-Sophie! How are you (really) doing today?
Hello! I love that you've asked in that manner because this question has become such a formality where we expect everyone to say they're doing well. Asking someone how they're really feeling is a small gesture of care - one i'm now going to adopt in everyday interactions myself. So thank you: I'm feeling positive and hopeful, and look forward to more honest and meaningful conversations to come.
You're also our resident neuroscientist. Can you tell us a bit about your scientific background?
Absolutely. I studied Psychology and Neuroscience at University, and went on to do a Masters in Experimental Neuroscience at Imperial College. During this time I was involved in research across various departments, and came up with a framework for the link between anxiety and the vestibular system, which has implications for the work that's being done with mental health and VR. I always knew I wanted to transmute my research findings into something more practical, so I'm excited that I get to do this with MindLabs.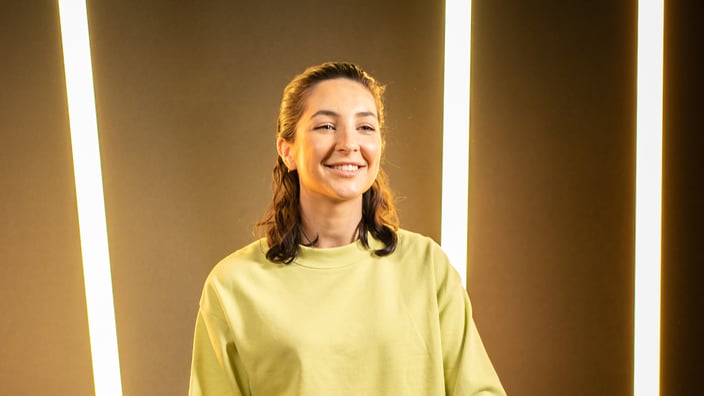 Meditation is more than just sitting quietly and observing the mind, and through neuroscience research we can understand the actual changes that are taking place.
What first got you interested in meditation and mindfulness?
I visited a Buddhist monastery in Thailand when I was 15. We arrived there after a long trek up a mountain where the monks lived in caves miles away from society. There was something so moving about their outlook and way of life, and I didn't want to leave. I was a year away from graduating high school, and I thought "when I graduate, I'll come back here and become a monk." As a result of my parents' unrelenting persuasion I went to University, despite not knowing what I wanted to do with my life, and now I educate myself (and others!) on contemplative practices and how they change brain structure and function. I think I've found a happy middle ground 🙂
Is there a strong link between meditation and neuroscience?
The ancient civilisations and religions knew intuitively what we are only just uncovering through modern science and technology. Meditation is more than just sitting quietly and observing the mind, and through neuroscience research we can understand the actual changes that are taking place. Changes in the brain are the precursor for changes in mood and behaviour, and I think the reason why the neuroscience of meditation is so fascinating is because it makes something that's happening in the mind of an individual mind so tangible, real, and necessary, a practice that is beyond the spiritual, and is actually a tool for improved mental AND physical health.
What does your personal meditation practice look like?
I like to meditate in the mornings; I find this helps set the tone for the day. On days where I don't stick to this routine I make an effort to incorporate mindfulness principles into everyday life, like eating, cooking or cleaning without distractions and savouring the moment.
You're MindLabs's Head of Mindfulness. What does that look like on an average day?
No two days are the same! I could be writing or filming content for the app, scouting out and interviewing new talent, getting stuck in the latest neuroscience research or running user testing to direct the strategy. There's also lots of looking at data involved, and on those days I love to work from home with my dog on my lap.
What else do you do to look after your mental health?
My dog Luna is the biggest influence on my mental health - she reminds me to be present, to go outside, exercise, to eat regular, healthy meals, to hydrate, and to make time for play. Also therapy. I can't recommend this enough - life is strange, and we could all benefit from talking through our thoughts, feelings and experiences.
Luna, giving her first MindLabs mind class.
You can watch Anne-Sophie's classes on the MindLabs app, available to download on the App Store now.