Hi Puravi! How are you (really) doing today?
Hi! I'm doing good, thank you for asking! I had a great night's sleep which is something I've been focussing on lately – sleep is so fundamental to our functionality. I definitely notice the difference when I get a good nights sleep. It has definitely improved my mood which always sets me up for a good day.
How did you first get into the world of meditation and mindfulness?
As an Indian Yoga, Breathwork & Meditation teacher, meditation has been a part of my upbringing, having grown up in a Hindu household - so I'd say it's always been a part of my life. I would sit and meditate with my grandpa and grandma regularly and always with my mum!
I'd say my journey into meditation and mindfulness deepened when I was in my early twenties and working in the investment banking industry (I know, a completely different world!). I was in a constant state of stress and my health was suffering. I'd be in hospital every single Friday with the world's worst migraines. I was desperate to find some sort of relief and turned to holistic practices to help. I went to Sri Lanka on a Yoga & Ayurvedic retreat and that was the beginning of my new chapter I guess. A few years later after I quit my job I went and did my yoga & meditation training, and have been working with children and adults to help them deal with stress and anxiety through yoga, meditation and mindfulness ever since!
What does your personal meditation practice look like?
My meditation practice is simplistic. It's a part of my morning routine much like brushing your teeth, I spend the first 5-10 minutes when I first wake up meditating. This allows me to set the tone for my day and let's me shake off any energy that I need to let go of from the previous day! I also choose more yin energy practices throughout the week such as yin yoga, restorative yoga, which also incorporate meditation. We live in such a yang world that we need the yin to find that balance and calm (even though we can do our very best to resist it!)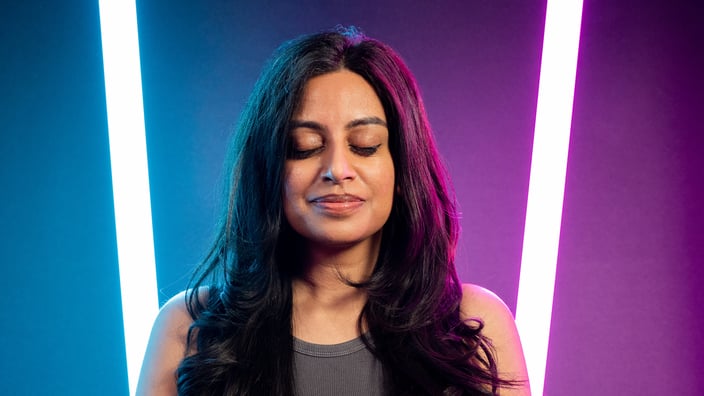 Therapy can still be quite taboo in Indian culture so I'm glad to be able to be able to speak about it so openly and let people know that it's a healthy thing to do.
What else do you do to take care of your mind?
Ah what a good question! Firstly I go to therapy regularly. I started my therapy journey in 2022 right at the beginning of lockdown and wow, I'm obssessed! I love it and think it's the best investment I could ever have made in myself. Therapy can still be quite taboo in Indian culture so I'm glad to be able to be able to speak about it so openly and let people know that it's a healthy thing to do. Its my favourite form of self-care!
Another thing I do is play the piano. I've been playing since I was 4 years old and it's my time to just be with no distractions. It's definitely a form of meditation for me! The song I'm teaching myself at the moment is Light Years by The Nationals – the piano music in that song just soothes your soul!
What can we expect from your classes on the MindLabs app?
People can expect tidbits of knowledge: the why and the how. I'm a fact nerd and if I can help anyone make sense of the why I'm here for it! You can also expect a sense of humour from me: we can't take ourselves too seriously. It's all part of the journey to let go of expectations and judgements that we put on ourselves!
Most of my students tell me I have a soothing voice and my meditations and practices are there to help you to find that pause in your everyday. I recently did a series on Rest which was such a pleasure to do! If you've checked it out you'll know all about my need to drop some facts and science into the mix!
What do you think makes MindLabs different from other apps out there?
I love how Mindlabs has the live classes. It allows users to connect with the instructors as opposed to just listening to a voice when you don't know who it is. That human connection can help the meditation journey as you know someone is there with you. I love the variety of teachers and all their different styles. I think this allows there to be something for everyone, and wherever you are in your journey there will be something and someone that you resonate with to help you along your way! 😊
You can watch all of Puravi's classes, along with her '8 days of relaxation' series, on the MindLabs app - free for two weeks with a 14-day trial.